Membership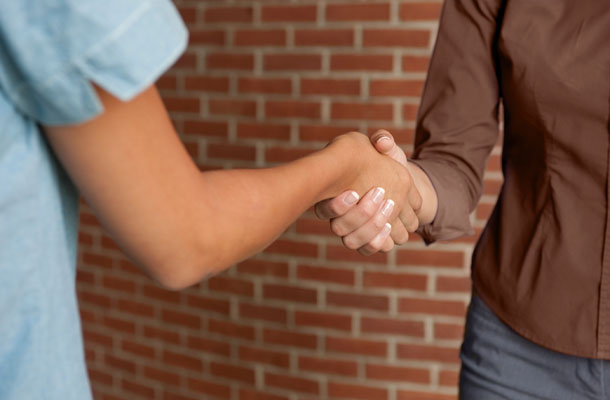 Who can be a member of Duncan Road Church?
Anyone is welcome to attend the services held each week at Duncan Road Church, but to become a member of the Church takes more than just attendance. To be a member a person must satisfy the Elders that:
They have genuinely taken Jesus Christ as their own personal Lord and Saviour (i.e. have been converted, 'born again').
They have been, or will soon be baptised by immersion in water. (for an explanation of this click here)
They are willing to be committed to the fellowship, and to play an active and supportive part in what happens at Duncan Road Church.
Is church membership mentioned in the Bible?
No! The Greek New Testament does not use the equivalent Greek word for 'membership' (i.e. referring to someone as a member of an organization), but teaches that the 'Church', both universal and local, is an ORGANISM, with Christ at the center and the believers as the living members.(Ephesians 1:22-23, 4:4, 5:23. Colossians 1:18, 1:24. 1 Corinthians 12:12-13).
Those who attend Duncan Road Church agree that it makes more sense therefore to talk about 'fellowship' rather than membership.
The word used in the Greek New Testament for fellowship is koinonia, a word that includes 'closeness, commitment, and a practical working and sharing together'. (Acts 2:42-47, 4:32-35).
Being in fellowship involves being:
A committed Christian seeking to follow and grow in your relationship with Jesus Christ.
Recognizing the need to be linked to a local congregation of Christians.
Having a desire to worship the Lord and serve him in the local community.
An individual would need to convince the Elders that this was so and then he or she would be welcomed by one of the elders 'into fellowship', before the local Church (congregation) at the 'Breaking of Bread' service.
What does being "in fellowship" actually mean?
Because the basic thought behind being "in fellowship" is sharing, the term is a reciprocal one. Consider these six areas of fellowship;
Living together:

The Church is described in the Bible as a family (Galatians 6:10), spending time together therefore is a must, if we are to grow together in love. (Ephesians 4:2, Hebrews 10:25).
Praying together:

In the Bible the Church came together to pray, this is an absolute must for all believers if they want to know, experience and enjoy God in a deeper way. Prayer is also a must if we want to forge deeper bonds with each other, as we worship, encourage, share needs and bring our requests to God. (Acts 2:42, 12:12. Colossians 4:2).
Sharing together:

This should be practical as we see each others needs and have a loving desire to meet those needs (Acts 2:42-47). It is also spiritual as we talk together about our faith and experiences formally and informally.
Learning together:

As well as reading and studying the Bible individually at home, all Christians benefit from being taught together by gifted teachers who can bring encouraging, relevant, practical and challenging insights from God's word. (Acts 2:45. Colossians 3:16).
Working together:

In the Bible the Church is described as a body. Ephesians 4 speaks of "the WHOLE body joined and held together by EVERY supporting ligament, growing and building itself up in love as EACH part does its work". Therefore we need to work together in positive practical and supportive ways.
Giving together:

Financial support is the responsibility of all the members. A 'free-will' offering takes place at the 'Breaking of Bread' service. (2 Corinthians 9:6-15, 1 Corinthians 16:1-2). Note: individuals can also place gifts into the collection bag (in marked envelopes) and these can be passed onto the individual, or cause, on behalf of the fellowship.
What about leadership?
Being 'in fellowship' also means recognizing and accepting the authority of the Church leaders (Elders). The Bible teaches that Elders should be:
Honoured (1 Timothy 4:17).
Obeyed (Hebrews 13:17, 1 Thessalonians 5:13).
Prayed for (1 Timothy 2:1-2).
Imitated (Hebrews 13:17).
Loved and respected (1 Thessalonians 5:12-13).
The current Elders at Duncan Road Church are; Martin Fielder, Paul Donaghy, Alistair McCann & Gordon Curley. The New Testament compares their work to that of a Shepherd (1 Peter 5:2). They have a responsibility to 'feed the sheep' (i.e. teach people from the Bible), to be concerned for them and show sympathy when they face trouble, advise them when they are in difficulties and care for them generally.
How can I be "in fellowship"?
First; pray and ask God what to do.
Second; contact one of the elders who will make an appointment with you to discuss your thoughts more fully.
Questions worth asking yourself first
Will I support the Church activities with my presence or only the ones that are convenient for me?
Will I support the Church activities I cannot attend with my prayers?
Will I contribute financially to the needs of the fellowship?
Will I have a positive or a critical attitude?
Will I exercise my spiritual and practical gifts?
Will I respond positively to the leadership of the Elders?
Will I pray regularly for the other members of Duncan Road Church?
For further reading:
The Church:
Matthew chapter 16:13-20.
Acts 2:42-47.
1 Corinthians 12:12-31.
2 Corinthians 6:16-18.
Galatians 3:6-29.
Ephesians 2:2-11.
Colossians 1:15-20.
1 Peter 2:4-10.
Leadership:
1 Thessalonians 5:12-13.
1 Timothy chapter 3.
Titus.
Hebrews 13.
1 Peter 5:1-4.
Involement:
Romans 12.
1 Peter 4:11.
1 Corinthians 12.
A monologue worth sharing:
The Passing of 'Someone Else'.
The church was bowed in grief this week to learn that one of our most valuable members, Someone Else, passed away. This death creates a vacancy that will be difficult to fill.
Someone Else has been with us for many years. During all these years, he did far more than a normal persons share of the work. Whenever leadership was mentioned, this wonderful person was looked to for inspiration as well as results. Whenever there was a job to do, a class to teach, or a meeting to attend - one name was on everyone's list: "Let Someone Else do it". Someone Else was also among the largest givers of the church. Whenever there was a financial need, everyone just assumed that Someone Else would make up the difference. This beloved church member was a wonderful person, sometimes appearing super-human; but a person can only do so much. Everybody expected too much of Someone Else. Now Someone Else is gone. Who will pitch in to do the things that Someone Else has done? If you are asked to take a job in church, we hope you won't reply, "Let Someone else do it". Now we need you to pick up where Someone Else left off.
- Author Unknown