This year it will be 'Backpackers' Holiday Club
'Backpackers.' will be a five-day morning club which will run from Monday 11th April to Friday 15th April 2021.
Each day we will explore a European city (Gare du Nord in Paris, the busiest station in Europe, Rome and its many amazing restaurants, the Swiss Alps, the distinctive shape of the Matterhorn & Hyde Park in London, the largest of four Royal Parks in the very heart of the city. as well as discovering some of the places that Jesus visited (Entering busy Jerusalem, God's Son received special worship, The last supper, Mount Calvary & the garden tomb). The Backpackers daily programme focuses on awesome accounts from the Gospel of Matthew.
The children will enjoy Quizzes, Crafts, DVD's, Bible Stories, Activities, Games and lots more!
Time: 10.00am to 12noon
Venue: Duncan Road Church. SO31 1BD
Age: Reception to school year 5
Cost: Free!
Booking in forms coming soon!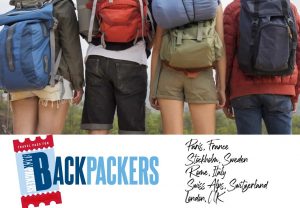 Last Time in the building it was Rocky's Plaice Holiday Club 2019
Rocky's Plaice was a five-day children's holiday club which ran from Monday 8th April to Friday 12th April 2019.
The club is based in a fish and chip restaurant that happens to be the meeting place of a church that loves helping children learn about Jesus!
When this cafe church was established, the building was renamed Rocky's Plaice in honour of Jesus' friend Peter!
The holiday club taught 5 stories from the book of the Bible called Acts. These stories celebrates how God established the first ever churches and the life of the church today.
The children enjoyed Quizzes, Crafts, DVD's, Bible Stories, Activities, Games and lots more!
To view previous Holiday Clubs
Click Here